Alexandra Mireková (SK) deep blue // GROUP DANCE – Hungarian Folk Dance Event in the frame of L1danceFest 2021 – 20 years! The LAST CONCERT
2021.09.03. 20:00 - 23:00
L1danceFest 2021 – 20 years! The LAST CONCERT
Movement-based International Festival of Contemporary Performing Arts
20th annual edition organized by L1 Association in Budapest
September 1 – 5 2021
September 3. 2021 Friday
Bakelit MAC
20.00 Alexandra Mireková (SK) deep blue
As part of  Be SpectACTIVE! Project, selected by the 'active spectators of Bakelit MAC'.

Choreography/dance: Alexandra Mireková (SK)
Concept/mentor: Márta Ladjánszki (H)
Special thanks to the workshop participants Bara and Boba and to jaro for the organization at Banská Bystrica (SK).

Supported by L1 Association, Bakelit MAC, Be SpectACTive! Project, Creative Europe Program, National Cultural Fund (NKA), EMMI, skok!
Selected by the 'active audience members' program' in Bakelit MAC.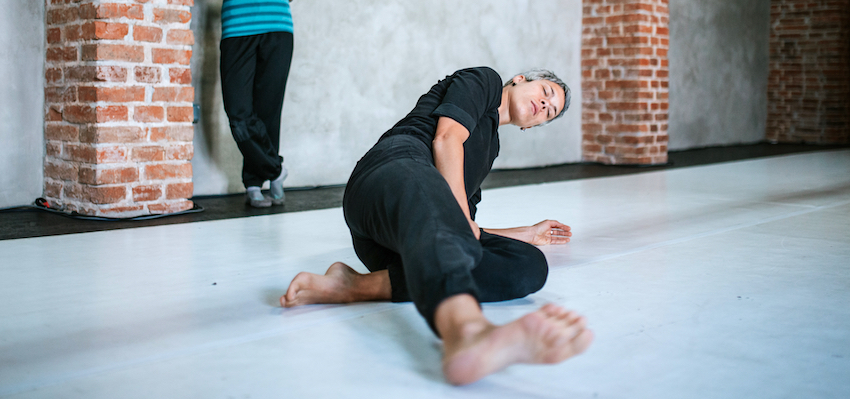 In the beginning is physicality. In the movements I look for connections of peripheries, release –leaving a part of the body, the colour blue, dark blue, light images behind closed eyelids. I am part of the space and it passes through me. I can be seen. I am discovering the motivation to move. There is physicality at the end.

Alexandra Mireková is currently working as production manager for several dance performances, she is also part of the organisational team of Skok! n.o. She attended several dance workshops, led by professional dancers, Alexandra took part in several dance projects: Biela noc –Košice, K.A.I.R., LUPE: performance of Zuzana Žabková, These bodies: Laura Alcala Freudentha etc. She led a dance group called Heeb.She in Košice (2011 – 2016). She created two original performances: Heeb.She: Deskripcia (Description) (2015) – structural improvisation and HRA NA TANEC: NONYMOUS/Do I exist today? (2017). Currently she is in the process of researching the meaning of workshops for non-professional dancers and continues to attend different workshops.
20.30 GROUP DANCE – Hungarian Folk Dance Event
Master of Ceremony: Júlia Redő (dance pedagogue, dancer)
Music performed live by Csaba Soós (first violinist, 'primás') and his ensemble
Dress code: comfortable shoes which can slip and comfortable clothes – as we dance!
Main organizer: L1 Association
Artistic director, curator: Márta Ladjánszki (L1-member)
Host: Zsolt Varga (L1-member)
Moderator of discussions: Márta Ladjánszki (L1-member)
Translation: Zsolt Varga (L1-member)
Co-organizers of the programs at the countryside: Márton Bauer (Dörgicse), István Kovács (Monor/Csévharaszt), Mária Nagy/Rózsa Markács (Délegyháza)
Video, photo documentation: István Kovács (L1-member), Balázs Lajti
Design: Anna Korolovszky

Main supporters: L1 Association, Ministry of Human Capacities (EMMI), National Cultural Fund (NKA)

Hosting/cooperation venues/partners:
Bakelit M. A. C., MAMŰ Gallery, 'Egy Falu – Egy Város' Association, Naturist Camping Oázis

Further supporters of the projects:
Artemisszió Intercultural Foundation, Be SpectACTive!, Creative Europe Programme, ZéróPlus Dance Studio, SkhyzoKhyno Studio, Fészek Fotó Stúdió, "Köszönjük, Magyarország!" program, International Visegrad Fund, National Cultural Fund of Hungary Imre Zoltán Program Ideiglenes Kollégium, NaVKE, Trans Europe Halles (TEH)

Media partners: CHB – Collegium Hungaricum Berlin, szinhaz.online, Táncművészet

The organizer reserves the right to make changes to the program.
More information: L1danceFest web-site / L1danceFest FB-site / L1 Association FB-site