NATURIST DAY! DÉLEGYHÁZA in the frame of L1danceFest 2021 – 20 years! The LAST CONCERT
2021.09.04. 10:00 - 23:00
L1danceFest 2021 – 20 years! The LAST CONCERT
Movement-based International Festival of Contemporary Performing Arts
20th annual edition organized by L1 Association in Budapest
September 1 – 5 2021
September 4. Saturday – NATURIST DAY!
Please note that the whole day is dedicated to nudity and the event is part of 'Dance Performance Series with Naked Audience'!
12.00 – 18.00 DÉLEGYHÁZA
Let's spend the day together NUDE and get to know each other, remember, meditate together; while we may encounter pop-up performances. Free of charge event.
With the ticket you buy here you can travel with the mini bus, departing from Bakelilt MAC at 10.00 am and come back at 19.00 to Bakelit MAC where you can joion the evening program as well. The price covers the minibus and the eveing shows.
Pop-up performances by Gábor Czap, Attila Dániel, Tímea Györke, Márta Ladjánszki, Zsolt Varga

Gábor Czap: IShowMe
Performer: Gábor Czap
Supported by L1 Association, EMMI
https://www.facebook.com/LetezesMozdul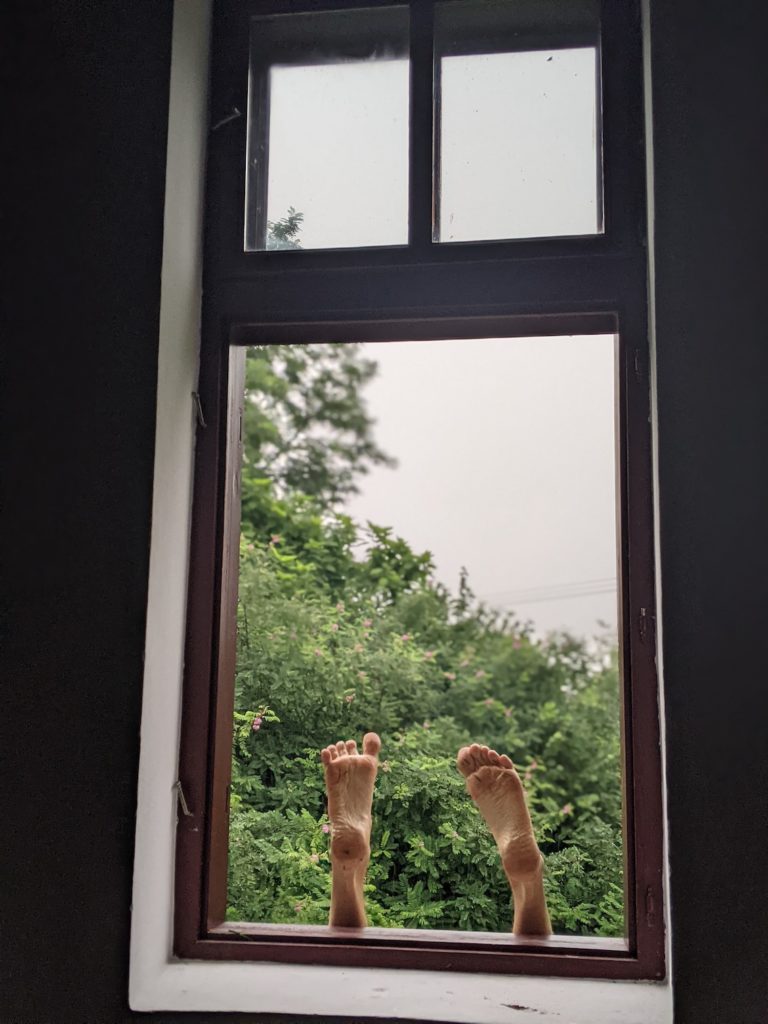 The costume is the man. The body is the animal. The creature covered by costume is lost in the recognizability of ordinariness, in the loneliness of specialty. The animal naked is lost in its nature.
The animal in costume covers its instinct with it.
The man naked discovers his instinct with that.
Márta Ladjánszki in cooperation with the performers: UMARMUNG 2.0
We premiered UMARMUNG in its final state on 2021.04.30 at Bakelit MAC.
In the Summer of 2021 the VARP-PA program of the International Visegrad Fund gave us the possibility to continue the work in Žďár nad Sázavou (CZ) at the Centrum choreografického rozvoje SE.S.TA. What we show this time is a collection of newly found motives representing a first version of a possible follow up.

Concept/choreography/direction: Márta Ladjánszki
Active partners of the creative process: Attila Dániel, Márta Ladjánszki, Zsófia Szász
Composer/performer: Zsolt Varga
Supported by L1 Association, IVF – VARP-PA, NaVKE, MNE, EMMI, NKA, Bakelit MAC, Be SpectACTIVE! Project, Creative Europe Program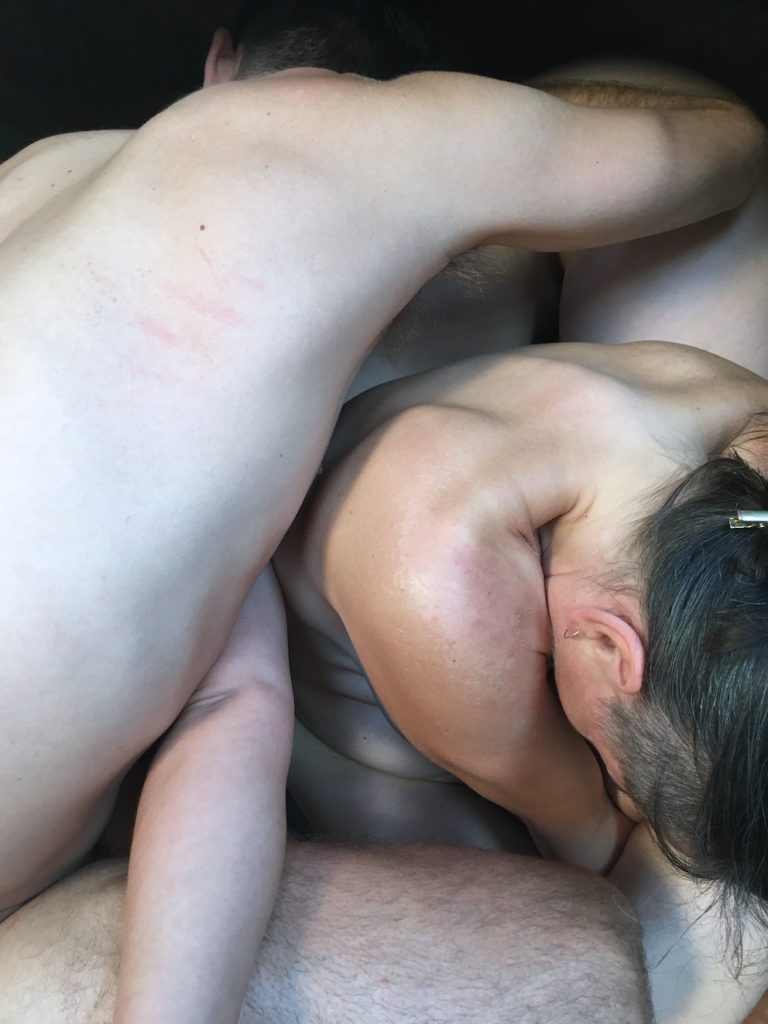 A taster of the upcoming UMARMUNG 2.0 happening at the Naturist Oasis Camp in Délegyháza working with its specific spatial possibilities.
September 4. Saturday – NATURIST evening!
Please note that the whole day is dedicated to nudity and the event is part of 'Dance Performance Series with Naked Audience'!
Bakelit MAC
20.30 Ladjánszki – Varga: LetMeC_natur
In the frame of 'Dance Performance Series with Naked Audience' and part of Be SpectACTIVE! Project, selected by the 'active spectators of Bakelit MAC'.
– a cooperation between L1 Association and the Virtual Association of Naturists (NaVKE) –

Choreographer/concept: Márta Ladjánszki
Composer/music: Zsolt Varga
Performers: Márta Ladjánszki, Zsolt Varga

Supported by L1 Association, EMMI, NKA, Derida Dance Center, Fabrik Potsdam, Műhely Alapítvány
Derida Dance Center Residency Program 2016 was realized with the support of the "Culture" Program of Sofia Municipality.

www.martaatwork.com / www.L1.hu

Márta Ladjánszki (after 20 years of being a choreographer and dancer) graduated from the Hungarian Dance Academy as modern dancer and rehearsal leader (BA) in 2015. During the choreography classes of Antal Fodor she started to develop an idea which was later shared with the dancers of Derida Dance Center in the frame of its 2-week long residency program in Sofia. The idea and the choreography gradually developed by having performed it live because the piece is in sensitive dialogue with both the space and the audience. Due to the countless reactions of the viewers each performance is different though it has a firm and clear structure base.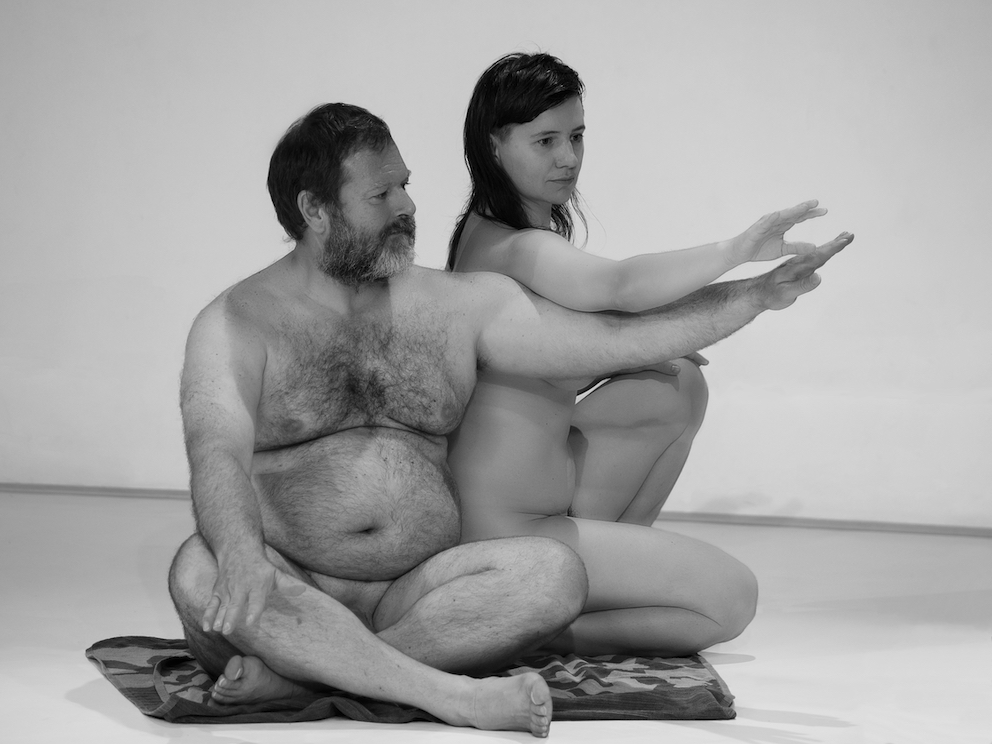 "The performance stirred a lot of interest long before the festival started. It has raised a lot of important questions around nudity on and off stage and invited audiences to re-think their personal positions towards it. At first too many radical and controversial proposals of inviting audiences to watch the show naked (and for some, to join artists as well on stage) proved itself to be a very generous and mature proposal for thoughtful examination of phenomena of how the community of equally beautiful and able bodies can be created and experienced within theatre context. It offered open space for gentle interaction and realization of the human fellowship established by will of both those who act and watch and it revealed the epic beauty of human encounters and community built step by step with full responsibility of its (even if temporary) members for themselves and others. Power of the performance lies in the possibility of experiencing the community of bodies built on slowly and generously developed trust and understanding of the fragile and demanding engagement balance we are to maintain in all our man to man interactions – both within the designed safety of the stage laboratory as well as in the real daily life of ours.
The way Márta Ladjánszki and Zsolt Varga designed and executed the work – so bravely and gently at the same time – lead audience into unique journey and left us with an uplifting believe that genuine togetherness and true experience of community (spoken a lot but so rarely witnessed within performance context) is still possible – in the theatre and outside. And definitely so much needed nowadays'" (Joanna Leśnierowska – curator of performing arts program, Poland)

Feedbacks from the audience
"Unprecedented event. An exciting experience which I definitely want to continue."

"It was my pleasure to be there and to take part in the performance. As I put it yesterday, a dream came true for me. I can hardly believe that it really happened. I'm grateful. It was fantastic!"

"Contemporary Nude Dance in Budapest – Not for the first time, and not for the last! A place for both nude dancers and a nude audience. The idea came directly from Márta Ladjánszki who came into contact with one of the founding members of the Federation of Naturists in Hungary (FENHU), the Virtual Association of Naturists (NaVKE), more than 10 years ago. At that time, several successful dance performances were organised for the naturist audience. Now, in 2018, the idea was taken up again and a series of three dance evenings was launched for a nude audience, as a cooperation of L1 Association with NaVKE.

I attended the second event of the 'Dance Performance Series with Naked Audience', a performance entitled LetMeC by Márta Ladjánszki and Zsolt Varga, in May 2018.
For me, this evening was particularly special, since a version of their piece was shown with both a naked public and naked dancers. It's a really great moment in a naturist's life to have such an extraordinary experience. I am very grateful to Márta and her co-artists for creating this exceptional event.
The choreographer performed this piece for a professional (and clothed) audience as well as for a clothed audience abroad. We were happy to attend the first naturist performance of LetMeC.
The piece consists of an exciting and brilliant sequence of movements and of music composed on the spot, and what happened on stage assembled into an improvised plot. The experience could be described as if one begins to build a house while getting acquainted with the bricks and stones, touching and forming them, and finally a castle emerges, as some of the more brave spectators followed the performance sitting on the stage and became a part of the performance. After the performance, artists met with the audience for a talk about the performance. It was impressive to see the faces filled with joy, the feeling of accomplishment, and the varying interpretations of a touch and of a set of movements. And that's how it should be, that's the thrill of a performance. This is Márta and her partner at their best: when they unearth from us those of our feelings we have not even known about and transform us into naked figures.
Anyone interested in sharing such an experience is welcome to join us at the L1danceFest on 6 September 2018, an event of meeting up, where Márta's interest focuses on the interactions between people. While the first two naturist performances this year were private events, at this third event anyone who undertakes to attend the performance in the nude is welcome to join." Written by Rózsa Markács, Secretary-General of FENHU, translated by Ilona L'Homme

Márta Ladjánszki (H) studied classical ballet, gymnastic apparatus work and jazz- and modern dance in Budapest and in Vienna. In 1996 she was the co-founder of KOMPmÁNIA contemporary dance theatre company where Ladjánszki worked both as performer and co-choreographer. In 2001 she joined the L1 Association and has been acting as its artistic vice-director ever since. Being a freelance choreographer and dancer in Budapest she keeps on seeking opportunities to present her work in the field of contemporary dance to those who are open to and interested in her works of art and her provision for the human body.
"Her inspiration comes directly from the body itself and transforms the inner thoughts into visible pieces of information. Ladjánszki firmly believes that we are all different (not only physically) and this makes our lives richer. This is why she celebrates the body in every piece she creates. "Body is the visible representation of personality" (Mary Starks Whitehouse)

Zsolt Varga (H) is a musician, composer, multiinstrumentalist, sound and movement artist from Budapest, Hungary and chairman of L1 Association since 2011.
21.30 NUDE DANCE-PARTY Master of Ceremony: zsopiN
dress code: NUDE!
Main organizer: L1 Association
Artistic director, curator: Márta Ladjánszki (L1-member)
Host: Zsolt Varga (L1-member)
Moderator of discussions: Márta Ladjánszki (L1-member)
Translation: Zsolt Varga (L1-member)
Co-organizers of the programs at the countryside: Márton Bauer (Dörgicse), István Kovács (Monor/Csévharaszt), Mária Nagy/Rózsa Markács (Délegyháza)
Video, photo documentation: István Kovács (L1-member), Balázs Lajti
Design: Anna Korolovszky

Main supporters: L1 Association, Ministry of Human Capacities (EMMI), National Cultural Fund (NKA)

Hosting/cooperation venues/partners:
Bakelit M. A. C., MAMŰ Gallery, 'Egy Falu – Egy Város' Association, Naturist Camping Oázis

Further supporters of the projects:
Artemisszió Intercultural Foundation, Be SpectACTive!, Creative Europe Programme, ZéróPlus Dance Studio, SkhyzoKhyno Studio, Fészek Fotó Stúdió, "Köszönjük, Magyarország!" program, International Visegrad Fund, National Cultural Fund of Hungary Imre Zoltán Program Ideiglenes Kollégium, NaVKE, Trans Europe Halles (TEH)

Media partners: CHB – Collegium Hungaricum Berlin, szinhaz.online, Táncművészet

The organizer reserves the right to make changes to the program.
More information: L1danceFest web-site / L1danceFest FB-site / L1 Association FB-site