L1-eve(s) a'la IZP
2021.10.12. 18:30 - 23:00
In 2021, the L1 Association will again organize the so-called L1-eve(s) but in a different way than in the past years.

L1-eve(s) a'la IZP
October 12 – 13. 2021. 18.30 CET

After an online edition in June NOW YOU CAN WATCH PERFORMANCES LIVE. We hope that in this way, the spectators of the evenings can get an exciting and colorful bouquet.

Stay with us, choose from tickets defined by the artists and join the performances.

The event is hosted by the Bakelit Multi Art Center, the long-term partner venue of the L1 Association.

Program:
October 12. Tue 18.30 we start with kulTÚRA – irány a gyár!
EXHIBITION ​​Ádám Ellenbacher: Map From The Inside – L2 terem/palackpult
Flóra Veres (TalkingBodies): I was never this before – Hangár
Judit Dömötör: CHNGNG – Stúdió színház
October 13. Wed 18.30 we start with kulTÚRA – irány a gyár!
Syporca Whandal: Penitence – Tetőterem
István Kovács: Icarustic – Hangár
András Déri: Mysterium Cosmographicum – Stúdió színház
Emese Kovács: intosomnia – L1 terem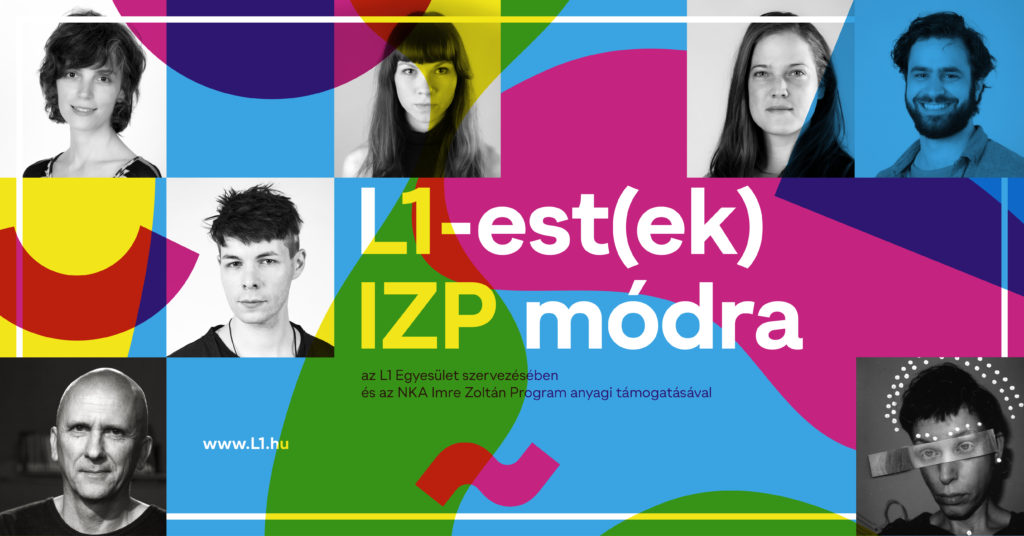 L1-eve(s) a'la IZP
Main organizer: L1 Independent Artists Association of Public Utility
Artistic director/program curator/host Márta Ladjánszki (L1-tag)

Translation: Zsolt Varga (L1-member)
Editing publication/graphic design: Anna Korolovszky
Portraits and collage pictures by Syporca Whandal (L1-member)
Introduction interviews by –odorik–
Main documentation by Balázs Lajti, István Kovács (L1-member)
Press contact: György Naszály

Main supporters: L1 Association, EMMI, NKA IZP Ideiglenes Kollégiuma
Partner venues: Bakelit MAC, Fészek Fotó Stúdió
Media partner: Táncművészet, Színház Online

We reserve the right to change the program.

More information:
L1 Egyesület website
L1 Egyesület FB site
Bakelit MAC website